Why not take up rowing?
Rowing is a great all-year-round sport, which you can take up at almost any time of life. You don't need to be super fit to begin rowing,
but you will certainly become fitter! You must be able to swim 50m in light clothing, but no other experience is required.
What's involved?
Firstly you should enrol on a starter course (click here for more information).
The starter course will teach you to scull which may be a similar technique to what you will have seen and maybe tried in a normal recreational rowing boat where you use two oars.
Part of learning to scull is learning to balance the boat!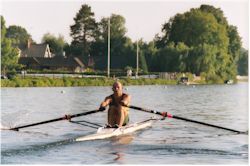 Making Progress
It will normally take 3-4 months to learn to scull confidently. After that, both adults and juniors can continue with sculling, either for recreation or to the highest levels of competition.
However, once you can scull, you can also learn to row in a sweep rowing boat. (Juniors must be 14 (for boys) or 15 (for girls) before they are allowed to row).
For rowing, each person in the crew has a single oar. Rowing boats are known as pairs, fours and eights. This refers to the number of people in the boat, which for rowing is therefore the same as the number of oars. Pairs and fours may have a cox or be 'coxless'.
The cox steers the boat and 'encourages' the crew during the race! Eights always have a cox.
Competition or Recreation
Guildford RC welcomes people who want to scull/row competitively, or those who want to take part to improve fitness or just for pleasure. Most recreational members scull rather than row, simply because it is something you can enjoy alone, or with someone else (in a double-scull).
If you want to compete, you can join in various activities to improve your fitness and technique, including circuit training and ergo training (an ergo is a rowing machine). You can also get coaching within a crew of people at a similar level of ability, and go rowing on the Thames or at Dorney Lake,
which is a purpose built 2000m rowing lake near Eton. Once you've reached a competitive standard, you'll be able to take part in your first regatta or 'head' race, depending on what time of year you have your first competition!
Regatta
A regatta is like the rowing you see at the Olympic Games, where 2 or more boats race each other side-by-side. The race distance is anything from a 500m to 2000m. Regattas are very exciting races, with the season running from May through August
Head Racing
Head' racing (head is short for 'Head of the River') is more like bicycle time-trialling in concept. A large number of boats (hundreds, in the biggest head races) start one-at-a-time over a longer course, from 2000m to 5000m or more, usually 10 or 20 seconds apart.The fastest boat of each type over the course is the winner in their class (for example, fours don't race against eights, because the eights would always win). Most of these races take place from October through March.