Club News – John Noble
Guildford Rowing Club is sad to announce the death of John Noble on Thursday 10 June 2021, at the age of 80.  John had been a successful cox at school and later as part of Vesta and Tideway Scullers. John also held the record for the Head of River Race for many years. John joined the Guildford about 15 years ago, getting involved with Juniors, particularly coaching the new starters. Despite being unable to drive after suffering some ill health, John continued to catch the bus from Camberley to Guildford each week, to help with the Juniors and police the car park, ensuring no shoppers used the GRC car park.
Amongst Junior coaches and parents he\'ll be remembered fondly for his stories, keeping them entertained while the Juniors rowed. He will be sorely missed by all at the club. 
Race reports:
GRC has had a great start to the regatta season!
Desborough Dashes saw a great number of senior and junior entries for the first event since lockdown, with 9 heat or event wins!  17 Juniors had their first ever race, and commiserations to our J13 and WJ13 squads whose events were cancelled due to the stream. Two senior crews led a valiant effort in the MxMas2x (Matt Oakey and Paula Reddy) and the WMas4x- (Emma Wells, Rachel Townsend, Claude Chiplin and Sue Loughlin). Sadly spectators were discouraged due to Covid restrictions, we hope events will soon start allowing them so family and friends can cheer on from the bank!
Many congratulations to the WJ16 2x crew (Eleanor Morris and Emmie Dowling) and the MasD4- (Crispin Payne, Tim Ostle, Brad Bryant and William Tilbury) for the event victories! 
The Junior Squad followed up with a half-term week of activity at Junior Sculling Regatta (on the May Bank Holiday) and a half-term camp at Henley Rowing Club. 
At JSR our intrepid Junior athletes pulled some great times given the reduced training; and the high calibre and competitiveness of this event. The OJ162x crew of Ben Isherwood and Nick Summerfield came 6th out of 18 nationally; Annie Williams and Matilda Dunstan came in 5th in their event with a courageous row in the WJ152x event and 17 nationally, and the WJ154x+ crew of  Amelie Webb, Isabella Hanin, Maia Bently and Maya McFarlane, Toby Forwood (cox) who came 3rd in their B Final and 10th nationally. Extremely well done to our J152x of Seb Oakey and Jacob  White, and the WJ152x of Ruby Lloyd and Trinny Vasanthan, who missed out on their final places by a whisker, but who nevertheless gave huge rows in their time trials. Well done to all who took part, and for the live commentary and updates throughout the day for parents who were not allowed to attend. 
The Junior squad at Junior Sculling Regatta and Henley. A very well done to Morley Pendred, who won a silver in the J152x for Tideway Scullers, but has learnt almost all of his trade at Guildford!
At British Rowing Masters Championships on 12 June, Rob Hall and Jeff Watling (Southsea) had a fantastic win  in the MasI2x, with a very comfortable lead of 30 s! Well done also to Paul and Nigel for their valiant effort in the MasG/H2x. 
Our next races planned include Marlow Town, (26 June), Henley Masters (9-10 July), Kingston (10-11 July), BR Junior Champs (16-18 July), Molesey Masters and Juniors (17-18 July), Henley T&V (31 July) and Staines (24 July) .  We are sorry to not be going to Maidenhead, which has been cancelled due to the lockdown extension. All the best to our crews across the squads training for these events. We hope to bring race reports as they happen.
New Boats!
We have now put our newly purchased boats into action! A new coxed quad replenishes our ageing fleet, and two new featherweights singles extend our provision of single sculls to our mighty lighties. We are pleased to see these getting the miles in on the water now they've been set up.
We are pleased to name our new coxed quad Ace of Blades – a nod to our Alice in Wonderland theme with a twist! The singles will be 9 and 10 in line with the current numbering.
The featherweight singles have a weight range of 50-60 kg- if you're unsure if you can use them, please consult with your squad captain.
Women's Captain Aimee in a new featherweight single, and the WJ154x+ in the new coxed quad!
BOTTLES…..We have a growing community of water bottles – please collect stray waterbottles – any remaining by the end of June will be removed to keep the club tidy.
SUMMER BBQ…SAVE THE DATE FOR 25 JULY!
We're planning our club BBQ for the Sunday 25 July…more details on how to sign up coming soon! We hope this will be a great opportunity to celebrate the club's achievements in this truncated regatta season, and with any luck the final lifting of lockdown!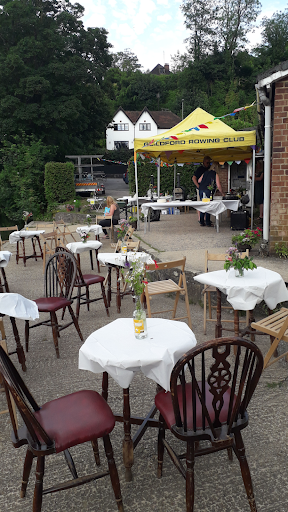 Please keep a lookout for details on how to book!
Erg Bosun sought!
The Club is looking for some volunteers to help coordinate the maintenance and service of our ergs – as we are getting back to fitness it is more important than ever that our equipment is working well and supporting our race ambitions!
If you can help (no previous experience required – just enthusiasm!) please let me know @ [email protected] 
Reminder on incident reports:
As we've returned to rowing, we've had several boat damages that haven't been reported. It's extremely important that boat damage and other incidents are reported in the black book in the club house and to your squad captain so that the Committee can promptly take care of any work needed to get the equipment back up and running for members to enjoy. Members aren't financially liable if a mistake was made – we need to know so we can fix things and learn from incidents. See this guide on the website  if you are unsure of what to report.
Please look out for any damage when you wash your boats and blades down at the end of an outing, or re-rig at the end of an event.
BR Safety Updates:
Every month BR send a safety report, and when necessary Safety Alerts. I've attached both of these to the update. They are also available on the BR Website: Monthly Safety Reports and Safety Alerts.
Trailer drivers – please take a look at the Safety Alert regarding the structural stability of towbars. 
All members – please take a look at the safety report, covering collision avoidance, lifejacket tests, SUPpers and some information about (the absence of) covid transmission in rowing clubs. It is vital that everyone still stays vigilant and keeps to good hygiene and distancing practices.
Welcome to new Committee members
We are pleased to welcome new committee members: Dan Wood (Junior Captain); David White (Junior Parent Rep) and Robert Hall (Water Safety Advisor) to the 2021-2022 Committee, and look forward to working with them to progress our goals for the next Committee Season.