REMINDER 1: Register for EGM on 12 May at 8 pm
This is your chance, as a member of the Club, to vote on amendments to the Constitution, put forward to help us be more inclusive and operate more effectively.
Register for the meeting by the 11 May by signing up to the link below:
https://us02web.zoom.us/meeting/register/tZArcu6vrDgiG9HN-Nurh4V0tD0ZwmnkhgDr
Notice of the Club Annual General Meeting, scheduled for Wednesday 26 May,  will follow shortly.
REMINDER 2: Membership fees due!
A general reminder to pay your membership fees as soon as possible. Fees are available on the website: https://guildfordrowingclub.org.uk/join, and you can renew your membership via ClubHub: https://britishrowing.azolve.com/.
For more information on renewing via Clubhub, please see the guide sent with this Newsletter.
It's really important to pay promptly, not only for insurance purposes, but to ensure that the Committee is able to forecast and plan expenditure inline with our income. Any questions, please do get in touch with Membership Secretary, Elizabeth Loch: [email protected]
RACES! Save the dates – check Spond for sign-up.
May 22nd: Desborough Dashes – Walton & Weybridge : Private event. Juniors and Masters – sign up on Spond or speak to your squad captain. Walton and Weybridge are good friends of the club so let\'s support them and get out of GU1 for the day! .
29/30 May – Nat Schools Regatta at Dorney Lake  – premier rowing event for our older Junior rowers.
31 May – Junior Sculling Regatta at Dorney Lake – great Junior squad racing opportunities – J15 and above.
12 June  –  British Rowing Masters Champs – at Holme Pierrepont/Nottingham – great multi-lane racing opportunity for Masters Rowers.
9-10 July: Henley Masters – National Level Competition on Henley stretch. MasB and above.
31 July (planned): Henley Town and Visitors – iconic stretch of river suitable for wide range of squads – very friendly race!
Covid-19 and the GRC Bar: New Rules
We are pleased to open up the GRC Bar as we passed the Roadmap milestone on the 12 April allowing hospitality to open up with restrictions. Please follow the rules below for happy and legal riverside drinks!
You do need to remain outside – even if it's raining!
You do need to follow table service – with members ordering and drinking at a table. Please assign a 'bartender' for your evening to go and collect/pay for drinks.
Please remember that if we're not following the rules, the club is the one that gets fined £10k – and we're very visible to the public!
Please complete the sign-in sheet in the bar and check in to the Test and Trace app for the Bar.
GRC Square Blades Kit Shop Open!
Get some stylish club garb – hoodies, training tees, hats, socks, and everything in between. Shop open until midnight 9 May. Order here!
GRC Trip to Dorney
GRC held a successful and vibrant trip to Dorney Lake on Sunday 25 April, with almost 70 rowers in attendance and a huge number of support people on the bank, loading and trailering. This is only the second opportunity we've had since the pandemic started to get out of the local area – the excitement was palpable!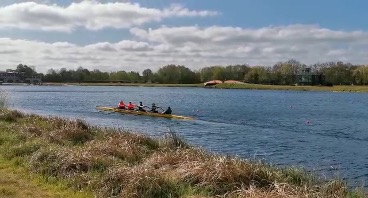 We hope everyone had a great time experiencing the cross-wind, rowing for 2000m, and remembering how to load trailers! We hope to make such trips a regular feature of the rowing calendar.
Many thanks to our trailer drivers – Victoria Lumb and Andrew Isherwood – without whom this trip would not have been possible. 
Training
After a month back on the water, we're picking up the fitness training ready for racing. Please check Spond for details!
Junior Fitness in the Field – Wednesday Evenings
Erg Tuesdays and Thursdays (PM) – Seniors – outside at the club
Tissue Conditioning and Online Circuits – Virtual training for Senior squads on Tuesdays, Wednesdays, Thursdays
Painting:
Thank you to our painting party – Danny, Simon and Richard Cooper, who have refreshed our external paintwork and given GRC a cool makeover!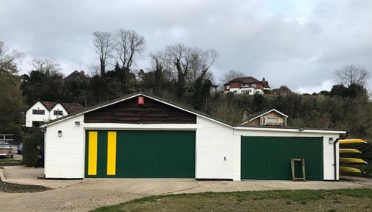 Requests for Information:
We are continuing to resolve the  hazardous condition of the collapsed river piling opposite the clubhouse, and to request to the National Trust that they take action to address the safety concern. This is a busy area for turning boats during many club sessions – the submerged piling creates an underwater hazard to rowers as well as other river traffic, and it would be virtually impossible to use a throwline for someone struggling in the water.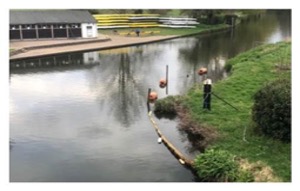 Before we contact the NT it would be helpful to understand whether we have had any near misses with boats running over the roped buoy line, and we'd like anyone, including rowers, coaches and parents, who have experienced or witnessed any incidents to get in touch with us and share the details. People can respond to the corresponding post in Spond or can contact Helen Gray ([email protected]) or Andy Curtis with a short description of the event (approx. date, scenario, boat/crew size, etc.)
If you do have a near miss, please do remember to fill out the British Rowing Incident Report @ https://incidentreporting.britishrowing.org/- This helps us to understand and respond to safety issues, and keep GRC activities safe for all.
Plans Underway for Summer Gathering …
We're keeping an eye on the loosening restrictions but we are planning to host some form of Summer Party and Scratch Regatta in the first half of July, in line with Government guidance…keep your eyes peeled for details and fingers crossed!
Keep your eyes peeled for the next update:
Race reports
New boats to be delivered…